It's been quite some time since tower defense games hit the peak of their popularity in the form of Warcraft 3 mods. Since then the genre has largely been relegated to flash games and mobile iterations. The Defense Grid series sits among a very small group of titles that have managed to take a relatively simplistic concept and expand it into a full scale game.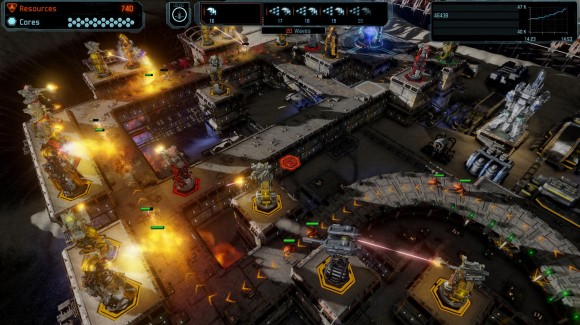 If you've never played a tower defense game the concept is simple, you are given a base which you must defend from incoming waves of suicidal enemies. You do this by building towers that impede the enemy's progress, the general goal is to create a maze like structure that will maximize the damage enemies take during their journey thus ensuring they never reach their goal.
Since its inception the Defense Grid series has improved on the standard tower defense model. Normally when an enemy hits your base you take some damage and that's that, you failed to stop them, and you're done. In Defense Grid you are given the chance to recover from an enemy who makes it through your defenses. Rather than attempting to destroy your base the alien swarms here are trying to rob it of power cores. You have 24 power cores, and when an enemy reaches the end of your maze they will steal one. (Or more depending on what type of enemy it is.) The catch here is that after an enemy has grabbed a core they have to backtrack through your guns. If you're able to defeat them on their return trip they will drop their core and it will slowly be pulled back to its home in your base.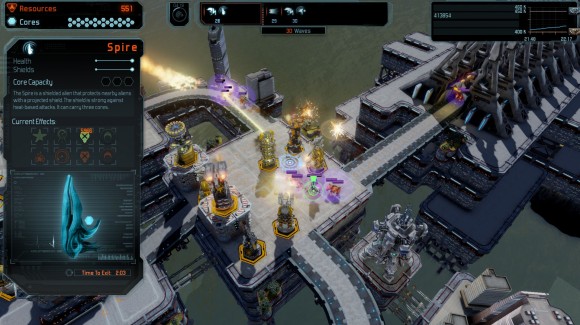 If that sounds like it makes things easier, think again. Defense Grid 2 gives you all the stress and intensity you'd expect from a game of this type. You'll get a great rush from attempting to stop a random enemy who broke through your defenses, and you'll really feel that defeat when they finally escape the level with one to two hit points left.
The Defense Grid series has always had a surprisingly substantial plot for a tower defense game and its sequel is no exception. The game's plot pretty much starts at a full sprint. If you want to be completely up to speed you're not only going to have to play the original Defense Grid but also its DLC packs which introduced the now key characters, Cai and Simon. You can probably limp by without the past experience, but you may also have this nagging feeling that you're missing something.
All of the game's characters are fully voice acted, series veteran Jim Ward returns as Fletcher, players will also recognize the voices of Jennifer "FemShep" Hale, and Firefly's Alan Tudyk. With such a strong voice acting crew it's kind of disappointing that the game does so little to its characters by way of art direction. Each character is represented by a silhouette of a human with a colored outline and nothing else. I was surprised that with such a robust script and great voice acting that there wasn't any kind of visual accompaniment to match. Even some photoshopped stock photos would have been an improvement over the soulless avatars provided.
This of course means there's also no cutscenes to be had, characters will usually move the story forward by running through some extended dialogue at the end of each mission but it's really more like a radio play than anything else. It's not the end of the world, but it is something I hope the series improves upon in future iterations.
What the game lacks in aesthetics, it makes up for in depth. There is a ridiculous amount of stuff to do in Defense Grid 2. The game provides you with 20 story missions to work through, but before starting each one you will find about 11 different modifiers that you can apply to change the experience. These modifiers generally raise the challenge, from locking you out of fully upgraded towers, to making it so cores no longer slowly work back to the base. Once you think you've got this game on lockdown, there's always something new to test your skills.
The game does have a robust online system. You'll find a friends list/leaderboard visible throughout all the menus and if competing for high scores isn't enough you can also jump into full blown matches with other players.  My favorite new mode is called DG Fighter, in it you and another player will both defend against identical waves of enemies. The catch is that when you kill an enemy it will spawn in the location it died on the other player's map. This encourages riskier moves like killing enemies closer to your power cores in hopes that their newly resurrected bodies will get a head start on your opponent.
If you're not really the competitive type there's also two co-op modes to look at. One has you and another player sharing a map, if you find that you're bumping into each other too frequently you can also try the Coordinated Defense mode which will assign each player dedicated tower spots.
Quitting the single player game at any time will allow you to later resume your match at the exact moment you left. This gives way to one of my favorite features in the game: you can continue to progress through your single player campaign while waiting for matchmaking to pair you up with somebody.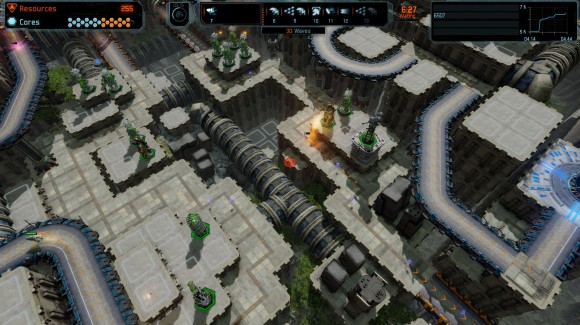 Defense Grid 2 is a hatchet, it's rough around the edges, maybe not the most aesthetically pleasing weapon, but by god it gets the job done. If you think tower defense doesn't have enough substance to fill a full blown release this is the title to prove you wrong.
This game was reviewed using pre-release code provided to us by the publisher.