Contrary to popular belief, Terrible Tuesdays are not all fun and games. Sometimes they call for moments of deep reflection, a lament for the golden years of a game's life span and sorrowful expression as to the thrall it has become. In this very somber Terrible Tuesday we take a look back at one of the greats, one of the infamous, one of the little angels fallen from the sky. Twisted Metal.
This is Terrible Tuesday. Where I delve into the worst video gaming has to offer or, in this case, look back longingly at what once was like a lover on the cliffs.
I don't think there's anything on this earth that's quintessentially more video game than Twisted Metal. Whacky, expansive cast of characters? Check. Personalities and appearances that are stereotypical, perhaps even borderline racist? Check. Full on multiplayer? Sorta check. Out there levels and environmental hazards? Definite check. Unique powerups for giving the player an edge? You'd better believe that's a check.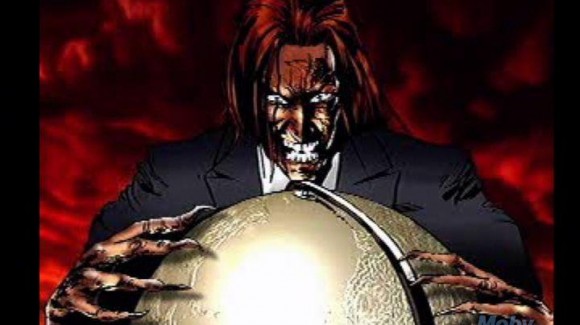 Twisted Metal with a solid 8 games in its franchise history, peaked at its second. I don't feel this is any bold claim, there is no Twisted Metal that came after 2 that was ever held up as "Better than 2" just "Almost as good as 2, but not quite." Nope, not even Black, quiet you, I'm the one writing the article not you. Twisted Metal, created by video game mad genius David Jaffe and pal Scott Campbell, captured my teen boy heart in ways few games could; with cars, destruction and chaos. All things young boys enjoy. Once the series got into the hands of 989 studios we saw what it meant for a studio to run an inherited IP into the ground long before it became trendy for studios to run inherited IPs into the ground. Thanks EA, Thanks Activision. Hell, in today's gaming world you don't even need someone new to take on your IP to utterly ruin it. Thanks Ubisoft, Thanks Square-Enix.
For those that don't know Twisted Metal's story and, as I have discovered from my fellow Enemy Slime editors and friends that may be a lot of people, it goes a little something like this; A man named Calypso starts a deadly demolition derby and offers to grant the wish of any competitor that wins.
That's it. It's that simple.
How do you mess that up?
How do you get that wrong?
Let's find out shall we…
Twisted Metal
Twisted Metal is the start of the franchise. If Twisted Metal 2 is aggressively 90s, then Twisted Metal is aggressively aggressively 90s. It's got everything, live action cutscenes and… Well pretty much just live action cutscenes but that's enough. It establishes the rules of the tournament and the monkey paw like wish granting of Calypso. It introduces a few sweet cars that will go on to become series staples including unofficial series mascot Sweet Tooth. It also has Crimson Fury, a fuckin' sweet ass red lambo that is used very little in future games. Twisted Metal floats around in the same realm as many "Ones" in the series, such as Suikoden, Final Fantasy, Grand Theft Auto and Street Fighter. We know it exists and the rest of the franchise wouldn't have happened without it, but we don't really care.
There's nothing inherently wrong with 1, it was great at the time. Two was just better in a golden age where sequels to things could actually be better, such as Suikoden 2 and Street Fighter 2 (GTA and FF wouldn't objectively be better until 3 and 4 respectively). Let's talk about how.
Twisted Metal 2: World Tour
There is no better spiritual height for the gamer soul than Twisted Metal 2. The game takes place in 2006, and the world is a chaotic hellhole (Jaffe: Nailed it). It's officially a year after the first game, Calypso has taken to his air ship and declared himself king of the Earth. Los Angeles has pretty much been run into the ground by his drivers (Again Jaffe: Nailed it) and Calypso decides to… Expand the tournament. This is the only Twisted Metal that serves as a direct, canon sequel to the first game. Head-On is only loosely connected, and Twisted Metal 3 and 4 sucked so bad David Jaffe decided they didn't happen. And seriously, who can blame him for not wanting to keep cars named Club Kid and Flower Power around?
Gone are the aggressively 90s live action shots of Twisted Metal, instead Twisted Metal 2 gives us aggressively 90s comic book character type designs. The cartoony look, for me, adds a lot to the overall fun and feel of the game. However more important than that is the fact Twisted Metal 2 allows you to branch out to other cities and well… fuck them up. Moscow, Paris, The Amazon, Holland, Antarctica, Hong Kong and New York all served as levels in this game. Several of them had landmarks you could trash. At the time, it felt really damn dynamic to take your little car and knock down the Eiffel Tower or blow over Holland's windmills (eh?). Young me got endless kicks shooting the dress off of the Statue of Liberty and seeing her slinky bikini underneath. Yeah. It was that type of game.
There were also more bosses. And each of the endings were fun. Such as the one where Calypso made Twister go so fast she would break the laws of physics and end up in dinosaur times. Or that one where Calypso's daughter was a robot and also a bomb.
Despite the stereotypical characters they were all a bit charming in their own way. Enough that I could remember their names beyond the cars, such as tragic little redneck Krista Sparks, down home homie Bruce Chochrane and series weirdo Marcus Kane. The trick was basing them on stereotypes, but giving just enough characterization you could have fun with the characters. A trick the next studio to helm the series would miss, ditching things such as "personality" and "goals" for going full stereotype. You never go full stereotype.
The driving was pretty arcade-y. There's no such thing as real car physics here, but damn it, it was still fun. Using simple d-pad controls to zip around, get as many power ups as possible, then hit enemies with that car's unique special abilities such as Axel's shockwaves or Twister's… Twister. Did I mention the cool boss fights featuring ginormous vehicles?
Anyone who gets this game next just has to riff off the fairly solid gameplay and unique world Jaffe designed. Yeah man. Just coast off that and you're fine.
Intermission
When SingleTrac wasn't busy making Twisted Metal they were, well, making Twisted Metal. This list includes Critical Depth; Twisted Metal with Submarines, Outwars; Twisted Metal with mechs and Rogue Trip; Twisted Metal with obnoxious tourists. They also made the original Warhawk and Jet Moto, however one of those is only sort of Twisted Metal and the other isn't very Twisted Metal at all.
I'll admit, I didn't even know Critical Depth was a thing until I wrote this article, however upon researching it I can say it's definitely a game SingleTrac would have made. For our purposes we'll only be talking Rogue Trip. In Rogue Trip you could play as one of several over the top "Auto Mercs" that were gunning, quite literally, for tourism dollars. With its dark humor, out there characters, special car assigned powers and arena combat this game was dripping Twisted Metal, only it wasn't Twisted Metal, but SingleTrac needed to prove they could still do Twisted Metal like no one else could do Twisted Metal. But why would SingleTrac have to do a Twisted Metal to out Twisted Metal Twisted Metal if they created Twisted Metal? Well…
Twisted Metal 3
It's unclear as to why SingleTrac was forced to hand over Twisted Metal to 989 studios, some say SingleTrac wanted to break up the band, other sources say it's because of contractual disputes. Sony, never one to let a good thing go even when they should jamesfrancosethrogenchanningtatum, handed the series off to 989 Studios so they could keep that sweet teenage-boys-obsessed-with-cars-and-explosions money rolling in.
I suppose one way to make Twisted Metal better and even Twisted…er is to include a soundtrack from the king of Fucked Upness, Rob Zombie.
A good way to ruin it is to implement uninspired cars and levels, characters you came up with in a bar writing on a napkin "Old lady who likes daytime shows, Done. Brilliant." And removing Twisted Metal's simple but functional gameplay system for completely nonsense physics.
Now the different gameplay isn't necessarily 989 studios fault. SingleTrac decided they'd rather go to hell than fuck their brand up, and refused to hand over their source code to 989. Now someone else fucking their brand up? Yeah that's cool apparently.
On the other hand the characters and story are entirely 989's fault. When I tell you the characters and endings are bad. They're really bad. I mentioned earlier how Calypso's wishes are often a double edged sword. If Calypso likes your wish, he'll often fulfill it without being too much of a dick, but more likely than not he'll manifest it in some twisted sense. Some of the wishes he granted could have pretty inspiring, if fucked up, twists. Here's a great example. In 2, Thumper's driver wishes to rule the world. Calypso grants his wish and makes him king of the earth.
The twist? The death and destruction Thumper caused himself leaves him the ruler of an empty, desolate land. He's the king of corpses. Ouch. Smooth move, Thumper.
In 3, Thumper's wish is to hang with his homies (Nigga what? Why'd you even leave the fucking block for that?) So Calypso grants it by turning him into a rearview window ornament… What?
Also please note how he goes from a typical black thug with a purpose to a ridiculous kool-aid chugging shuckin' and jivin' uncle Tom.
Even better. "Club Kid", a car only 989 studios could think up, determines his wish is to attend a rave that never ends. So Calypso sends him to a rave… In Alaska…. Because night lasts months there.
Better be careful there Calypso, I think you might be getting too clever.
Twisted Metal 4
Sweet Tooth, a psychotic serial murdering clown who drives an ice cream truck, has a bit of Wolverine syndrome in Twisted Metal. What's Wolverine syndrome you ask? It's when you take an interesting, compelling villain or anti-hero, and explore their mysterious character so much they're no longer interesting or compelling and you just get sick of them. That's Wolverine syndrome. Sweet Tooth suffers Wolverine syndrome.
You ever read a fanfic where you know some 13 year old wrote it and tried really, really hard to create original characters they honestly believed fit into the theme of the world they were paying homage to? That's what Twisted Metal 4's roster feels like.
You have Pizza Boy. A lyric rhyming wigger. And Goggle Eyes, an exterminator that wants to rid the planet of bugs. Oh Outlaw, how I miss you.
This is actually the best of 989's Twisted Metal run.
The levels are a bit more inspired, the characters are a bit… off and silly, but fit better than fucking Club Kid did. Sweet Tooth now runs the Twisted Metal contest and the endings are oh so hilarious. What with Sweet Tooth being forced to escort a trailer trash family around in their RV in one ending. Or Sweet Tooth having to attend Drivers Ed in another. Oh man, a psychotic serial murdering clown doing mundane things. Comedy gold.
The physics and driver AI is toned down from 3. Turns out real world physics (if you can call those real world physics) clash with the fun in a game about lobbing ice bombs at other cars, turning the Eiffel tower into a ramp jump and having wishes granted by magical evil genies.
You could also Create a Car. Your own soapbox death machine to take down the other challengers. It was a great concept, now if only it appeared in a better game.
Twisted Metal Black
David Jaffe saw the ruin 989 had brought upon the Twisted Metal franchise, and he returned. Not as God or King, but as savior, and it was good.
Twisted Metal has a very marked upturn from Black on out. The main problem is no one played them. Seriously. Every Twisted Metal from Black and onwards just makes several poor marketing and console decisions, and only the faithful of the most faithful tend to play them all, and sometimes not even then (while I haven't missed a single Twisted Metal in its entirety I certainly haven't bothered to own them all).
SingleTrac, now Incognito Games, returns Twisted Metal to the world as a playstation 2 title that promises to be A More Mature Game for the Edgy Age of Mature Gamers.
Most of the drivers in this game were mental asylum patients who had undergone some kind of intense trauma, inspiring their wishes. This is almost instantly better than Club Kid and Pizza Boy wanting to party or build a tricked out ricer. Calypso promises to make their boo boos all better if they enter his contest.
As the name implies, everything about Twisted Metal: Black was a bit… Dark. In the grimdarkness of car tournaments no one can hear you scream. There is nothing wrong with this, as even though earlier Twisted Metals were "fun" they weren't necessarily comedic. Krista Sparks being forced to blow up her daddy for example is kind of messed up, even though she's a robot and also dead and also a teen THOT that drives a heat seeking dune buggy. I… back to Black.
The music is good, some of the twists to the wishes can leave you with a cold feeling, the levels, though not as grandoise as 2's locations, fit the atmosphere well. There was also a bit of a level select mechanic, so you could choose whether you would fuck up a drive in movie or spin out of control on a snowy road. The drivers of cars like Outlaw, Mr. Grimm and Shadow had real motivations, wants and desires the player could get emotionally attached to. Each wanted to reliving one trauma in their lives that ruined them forever. Stories such as Outlaw, a SWAT sniper who regrets shooting a kid in an overzealous act, or Shadow; a goth chick who helplessly watched as bully jocks caused the death of her friend, were deeply compelling for a simple arcade romp.
The new cars very much fit Black's world. You had Brimstone, a Camino that serves as the confessional for a twisted preacher and Crazy 8, a Cord 810 driven by a washup boxer. Man how Italian. It achieves that gentle mix of kind of offensive, but not so much it's off putting, it's all just right.
So why does this one get swept under the rug? Well. It was a Year 1 game for the Playstation 2. I know right? Ouch. Closer to a year and two months maybe, but same principal applies. Video games released in the first year or so of a console tend to not get a whole lot of audience exposure because not a whole lot of people tend to own said console. What's worse is you often go on to be considered a "tech demo" for what the console can do and not a "real" game. Sorry Oni. Sorry Infamous: Second Son. Sorry Twisted Metal Black.
Twisted Metal: Small Brawl
Not one to turn away their dedicated fans that put up with Twisted Metal 3's and 4's bullshit, Incognito was sure to release a game for the 32 bit PSX that wasn't more cartoony, silly bullshit in a game called Twisted Metal: Small Brawl where you fight as RC Cars controlled by little kids.
FUCK.
Okay so Small Brawl actually works quite well. Really well. On paper it looks like a really bad idea, kind of like how Grand Theft Auto on the school yard looks like a bad idea, but then Bully comes out and everything is great.
Twisted Metal fans probably aren't intrigued by the premise of racing RC Cars though. It's not so much death, destruction and mayhem as it is costing your parents 30 bucks and some linoleum flooring. It's just not what people were looking forward to. Especially when you say "Playstation 2 has Black, but you guys, you get this. Enjoy." It's also a less tight game than Black, falling back on the same physics engine as Twisted Metal 2. Sure is cash in around here.
Though I guess seeing the machinations of schoolyard bully Calypso is as fun as seeing burnt toast man Calypso.
Twisted Metal: Head-On
Twisted Metal Head-On was developed for the PSP.
That's the end of that breakdown.
Twisted Metal (2012)
Twisted Metal is the last utterance we've heard of the franchise, roughly three years ago, which isn't so bad considering series will go under for decades before rearing their ugly heads again. Designed by Eat, Sleep, Play, because David Jaffe and Scott Campbell fucking love founding new video game startups. Twisted Metal was started as a PSN downloadable and well, sadly didn't move much past that. Sony expressed interest in "expanding" it into a full game, and by that they must have meant printing it on a Playstation 3 disc and slapping a 60 dollar price tag on the thing.
Twisted Metal was to be a reboot of the franchise set in a post apocalyptic world, though Scott Campbell later rejected the idea of the Apocalypse thinking it didn't fit the Twisted Metal brand. Now in all fairness to Scott, Twisted Metal never took place in an Apocalyptic setting, it was always a destitute dystopia. The game was built around multiplayer first, campaign second, which means as with most games using that design mentality the campaign was basically just a demo for the multiplayer. Team gameplay was carved up between four "factions" because once more, factions have to be a thing in every game since World of Warcraft. You could team up with The Clowns, The Dolls, The Skulls or The Holy Men. The campaign was linear and contained a focus on only four drivers, inspirations for the aforementioned factions, Sweet Tooth, Dollface, Mr. Grimm and Preacher.
The game felt, well, pretty thin. There were other cars but you'd have to unlock them by advancing through the story or, surprise, surprise, pre-order DLC. While it had a lot of cool concepts in terms of story delivery, weapons loadouts (having sidearms beyond the default machine guns was cool) and gameplay modes. It's just this started as a downloadable title, and never evolved beyond being a downloadable.
Twisted Wrap
Now here we are. This bout of nostalgia was triggered by me downloading Twisted Metal 2 for the PS Vita. Which was a great idea until I realized it relied on the back touch screen. Why. WHY would you implement such an unruly control scheme into your beloved game? Do you just not care? I was longing for Twisted Metal and that rear touchpad just made me long harder.
There hasn't been a peep from Twisted Metal in years, which is fine because Jaffe has moved on to bigger things such as God of War, even though there also hasn't been a peep from God of War in years.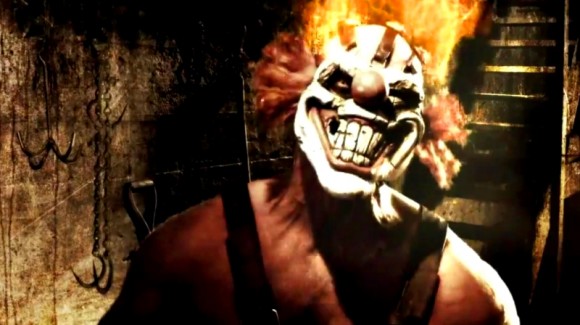 My 2 cents as a video game writer with no programming background whatsoever? Pair the roster of 2/Head-on with some of the story telling techniques of Black and online components of Twisted Metal 2012, continue to improve the controls and handling of the games and give us huge, destructable levels. Add in just the right mix of humor and darkness and you've truly got something special. Make sure it's a full game on a console people actually play.
And for the love of god.
Do not use that rear touchpad.